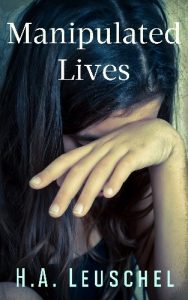 Manipulated Lives: Five stories – Five Lives.
Have you ever felt confused or at a loss for words in front of a spouse, colleague or parent, to the extent that you have felt inadequate or, worse, a failure? Do you ever wonder why someone close to you seems to endure humiliation without resistance?
Manipulators are everywhere. At first these devious and calculating people can be hard to spot, because that is their way. They are often masters of disguise: witty, disarming, even charming in public – tricks to snare their prey – but then they revert to their true self of being controlling and angry in private. Their main aim: to dominate and use others to satisfy their needs, with a complete lack of compassion and empathy for their victim.
In this collection of short novellas, you meet people like you and me, intent on living happy lives, yet each of them, in one way or another, is caught up and damaged by a manipulative individual. First you meet Tess, whose past is haunted by a wrong decision, then young, successful and well balanced Sophie, who is drawn into the life of a little boy and his troubled father. Next, there is teenage Holly, who is intent on making a better life for herself, followed by a manipulator himself, trying to make sense of his irreversible incarceration. Lastly, there is Lisa, who has to face a parent's biggest regret. All stories highlight to what extent abusive manipulation can distort lives and threaten our very feeling of self-worth
Review quotes for Manipulated Lives
'The beauty of Leuschel's collection of stories is how they highlight the way we, as humans, often blind ourselves to the truth which can make us both manipulators and victims. The stories are all character driven by realistic and flawed characters and this allows us to relate to the behaviour depicted no matter how extreme it may become.' E.L. Lindley
'This book is made up of a superb collection of 5 short novellas depicting manipulators and the manipulated, highlighting to what extent abusive manipulation can distort and threaten lives.' Miriam Smith
'All five of these stories are thought-provoking and emotional and it is clear that the author has well researched her subjects. There is a lot of psychology of manipulation in this book, but Leuschel gets the balance between information, education and entertainment spot on.' Feminisia Libros Book Blog
'Strong words and emotions.' Misfits Farm Blog
'If psychology fascinates you or you enjoy realistic fiction in general, Manipulated Lives is definitely a great read.' Yvo @ It's All About Books