My Sweet Friend: A perfect friend … or a perfect impostor?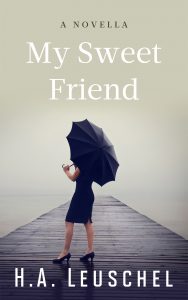 Alexa is an energetic and charismatic professional and the new member of a Parisian PR company where she quickly befriends her colleagues Rosie and Jack. She brings a much-needed breath of fresh air into the office and ambitiously throws herself into her new job and friendships.
But is Alexa all she claims to be?
As her life intertwines with Rosie and Jack's, they must all decide what separates truth from fiction. Will the stories that unfold unite or divide them? Can first impressions ever be trusted?
In this original novella, H.A. Leuschel evokes the powerful hold of appearances and what a person is prepared to do to keep up the facade. If you like thought-provoking and compelling reads with intriguing characters, My Sweet Friend is for you.
Review quotes for My Sweet Friend
'My Sweet Friend manages to pack a punch and keep the reader in a choke hold from the first page until the last.' Leah Moyse, Reflections of a Reader
'The author is excellent at portraying characters that are flawed by their past.' Lisa, Owl Be Sat Reading
'The story flows and before you know it, you're hooked.' Patricia Furstenberg, bestselling author
'Emotionally strong and gripping.' Joana, Bookneeders Blog
'With plenty of food for thought, this novella certainly gets your brain ticking over!' Grace, Good'n Read-y
'Leuschel has a fantastic way of drawing the reader into her stories, the characters are well developed, and the setting was stunning. It's all about the books blog