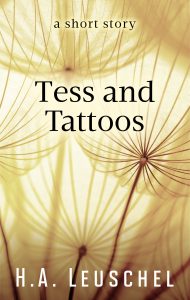 Tess and Tattoos
She is facing the last phase of her life, where the days stretch out like a yawn and she is alone, with her only son and grandchildren far away on the other side of the globe.
Meet Tess, an elderly lady living in a care home apartment in the outskirts of Edinburgh, whose past is haunted by a wrong decision. She meets Nurse Sandra, a warm and bubbly single mother of three, who is instantly intrigued by Tess's personality and the mystery that surrounds her.
'Tess and Tattoos' is one of five gripping stories in HA Leuschel's story collection Manipulated Lives centred around psychological manipulation.
Review quotes for Tess and Tattoos
'Touching and heart-warming!' Bits about Books
'Really emotional and I'm not afraid to say that I shed a tear.' Nerdish Mum
'I was completely overwhelmed by the character's sensitivity and the deep affection between the old lady, her son and the nurse' Amazon Customer
'The writing style was superb.' Kristin's Novel Café
'A truly unique and detailed look into the human psyche that provides a fascinating and engaging read.' Books, Vertigo and Tea