Book quote
'Researchers have found sex differences in every tissue and organ system in the human body, including the immune system'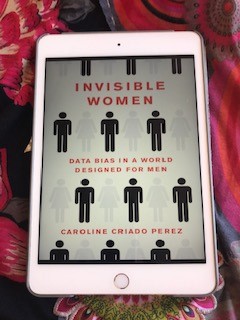 Blurb
Imagine a world where…
· Your phone is too big for your hand
· Your doctor prescribes a drug that is wrong for your body
· In a car accident you are 47% more likely to be injured.
If any of that sounds familiar, chances are you're a woman.
From government policy and medical research, to technology, workplaces, and the media. Invisible Women reveals how in a world built for and by men we are systematically ignoring half of the population, often with disastrous consequences. Caroline Criado Perez brings together for the first time an impressive range of case studies, stories and new research from across the world that illustrate the hidden ways in which women are forgotten, and the profound impact this has on us all.
Discover the shocking gender bias that affects our everyday lives.
My Thoughts
I don't often come across books that I consider must-reads for everybody, but Invisible Women is definitely one of them. I think fiction is subject to personal interest, while non-fiction books like 'Invisible Women' is relevant to every person on earth, regardless of sex, gender identity, culture or nationality. This is because everybody is, unconsciously, perpetuating this gender bias. The knowledge that lies between the pages of this book reveals just how many misconceptions, prejudiced conclusions and false interpretations are entrenched in people's psyche … and it's directly or indirectly harmful for everyone.
Perez has written a book that makes you think about the devastating consequences data bias has. She mentions for instance the fact that women are given doses of chemotherapy that are too high in relation to their smaller body weight compared to men. The gap in medical knowledge is what shocked me most in this book. Female bodies have simply been overlooked, misdiagnosed or when diagnosed eventually, it is with a much higher delay than for men. Furthermore, this is exacerbated by the fact that women are more likely to have side effects to drugs that are based on a male-default model. Women's bodies differ from men's bodies in that they usually have higher body fat percentage and blood flow, lower base metabolic rate, less bile acid and slower kidney filtering. However, when it comes to clinical trials, these differences are not considered. Drug trials are not set up and designed to cater for both the male and female body separately.
Nearly every page of the book includes data and figures to back up the author's interpretations. It's by no means a dry read. On the contrary, the information shows the depth of the author's research and her style of writing is engaging and clear. The book is a perfect place to start and re-think how we look at everyday designs, policy-making, health care and medical trials with a new set of eyes. It reveals the fact that data centres on male experience in every area of life and overlooks the female one.

The author eloquently presents this significant and dangerous gender gap based on the myth of "male universality" which as such is not necessarily malicious or even deliberate, but nevertheless the product of thinking that has been around for millennia. It is deeply flawed, discriminatory and in urgent need for drastic revision and rethinking.

The Book in three words: fascinating, eye-opening and shocking.
I'd love to know your thoughts on the book if you've read it!
About the author
Caroline Criado Perez is a best-selling and award-winning writer, broadcaster and feminist campaigner. She is published across the major national media, and appears in both print and broadcast as a commentator on a wide range of topics.