Book quote
'Words were space carved out of life, warm and safe.'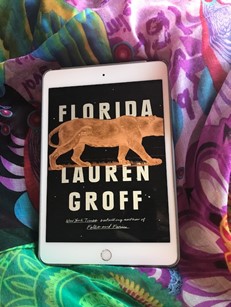 Blurb
In these vigorous stories, Lauren Groff brings her electric storytelling to a world in which storms, snakes and sinkholes lurk at the edge of everyday life, but the greater threats are of a human, emotional and psychological nature. Among those navigating it all are a resourceful pair of abandoned sisters; a lonely boy, grown up; a restless, childless couple; a searching, homeless woman; and an unforgettable conflicted wife and mother.


The stories in this collection span characters, towns, even centuries, but Florida – its landscape, climate, history and state of mind – becomes the gravitational centre. With shocking accuracy, Groff pinpoints the connections behind human pleasure and pain, hope and despair, love and fury – the moments that make us alive.
My Thoughts
I regularly reach out for short story collections because I find that when I am in the process of writing or editing, I prefer to immerse myself in shorter pieces of fiction.
As with all short story collections, it's almost inevitable that some will stand out more for me than others. It's the dilemma of anthologies, I guess. However, the majority of the eleven stories in this collection were a delight to read. They focus on characters, mostly female, who deal with different challenges in life. Themes range from loneliness, questioning relationships, neglect and motherhood. They battle with pain, depression and grief but despite the dark elements of the stories there is a lot of tenderness found between the lines.
The story 'Dogs Go Wolf' was one of the three stories that affected me the most. Two sisters aged four and seven are abandoned by their mother in a fishing village off the coast of Florida. There is no one around to help them, but they do their best to survive with limited food and water resources. It was heart-wrenching to read about their struggles, clinging onto each other and making the best of their resourcefulness in staying alive. The author created a vivid setting that made me want to reach through the pages and pick up the two girls and whisk them away to safety.
In 'Above and Below', it is a woman who finds herself in a dire situation after losing her job, apartment and her boyfriend. She finds herself on the periphery of society, a vagrant who barely manages to feed herself. This story was very realistic in portraying how quickly a person can end up being homeless.
The third story that resonated with me the most was the last and longest of the stories called 'Yport', the name of a seaside town in Normandy. An American woman takes her two young sons travelling to France to escape the clammy summer weather in Florida, to conduct research for a book about the French writer Guy de Maupassant and to immerse her children into the French language and culture. It's a story about the difficulty combining the duties of care as a mother with the need for solitude as a writer, the disappointment marriage can bring and finding out that a writer you used to revere can lose his magic when finding out about his unsavoury background.
Most of the stories are set in humid, snake and alligator infested Florida, but Brazil and France also feature among the plot settings. The author's descriptions of the landscape and the clammy humidity of Florida as well as the cooler climate in France are vividly portrayed and complement the psychological turmoil the characters are going through very well.
This is my first read of Groff's writing but definitely not the last. Her characters feel real, their struggles, anger and vulnerability made me root for them, and despite all the odds, there was an overall sense of courage to face the loss, grief and despair that was subtly conveyed in each story.
There are books where the artistry and creativity of the language stands out for me and others where the plot and character development grabs my attention – here I got both and therefore can't wait to discover more of the author's work soon.

The Book in three words: emotional, evocative, and satisfying my wanderlust.
I'd love to know your thoughts on the book if you've read it!
About the author
Lauren Groff was born in Cooperstown, N.Y. and grew up one block from the Baseball Hall of Fame. She graduated from Amherst College and has an MFA in fiction from the University of Wisconsin-Madison.