Book quote
"…difficult circumstances were good starting points for life changes, great or small."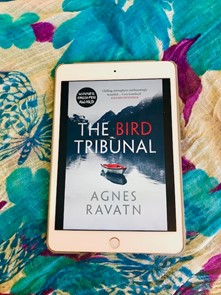 Blurb
TV presenter Allis Hagtorn leaves her partner and her job to take voluntary exile in remote house on an isolated fjord. But her new job as housekeeper and gardener is not all that it seems, and her silent, surly employer, 44-year-old Sigurd Bagge, is not the old man she expected. As they await the return of his wife from her travels, their silent, uneasy encounters develop into a chilling, obsessive relationship, and it becomes clear that atonement for past sins may not be enough. Haunting, consuming and powerful, The Bird Tribunal is a taut, exquisitely written psychological thriller that builds to a shocking, dramatic crescendo that will leave you breathless.
My Thoughts
Today I am going to post a special feature about a book that even after all these years since reading it (December 2016) I still remember as leaving quite an impact on me.
You'd think far away from the city, in a remote area in Norway, cold and surrounded by forest, taking on a job as a housekeeper and gardener for a 44-year-old man called Sigurd Bagge, should help Allis run away from a scandal in her former life as a TV presenter. Instead of a sense of freedom that manual labour and work in the outdoor should bring her though, Allis' new life is claustrophobic, tense and wrought by a sense of foreboding from the very first scene.
Soon the reader is drawn in to the two main characters' complicated set up and their progress in battling dark personal demons and secrets. Despite Allis and Sigurd's little interaction between chores, their relationship quickly turns threatening and unnerving. The author had me hooked and intrigued by achieving the perfect balance between mystery, atmospheric setting and character developments.
The Bird Tribunal is a book I loved and I think it is because the author is writing in a way that sounds 'right' in my head. The reading voice in my mind tuned in like into a radio station and didn't let go until the unexpectedly gripping ending. The language is as sparse and precise as is the routine and exchanges that Allis and Sigurd share, the setting of a remote house in a fjord adding to the mystery, and to the gradual and inevitable uncovering of the truth.
It is a powerful psychological suspense novel that kept me glued to the page until the last sentence. One of the best psychological thrillers for me!
The Book in three words: haunting, unsettling, atmospheric
I'd love to know your thoughts on the book if you've read it!
About the author
Agnes Ravatn was born 8 February 1983 in Olen and is a Norwegian novelist, columnist and journalist.