Book quote
"When a woman steps out of line and contravenes the feminine norm, whether on social media or on the Victorian street, there is a tacit understanding that someone must put her back in her place."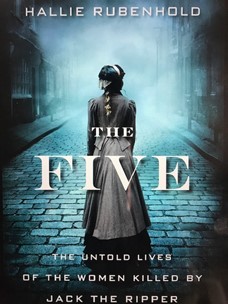 Blurb
Five devastating human stories and a dark and moving portrait of Victorian London – the untold lives of the women killed by Jack the Ripper.
Polly, Annie, Elizabeth, Catherine and Mary-Jane are famous for the same thing, though they never met. They came from Fleet Street, Knightsbridge, Wolverhampton, Sweden and Wales. They wrote ballads, ran coffee houses, lived on country estates, they breathed ink-dust from printing presses and escaped people-traffickers. What they had in common was the year of their murders: 1888.
The person responsible was never identified, but the character created by the press to fill that gap has become far more famous than any of these five women.
For more than a century, newspapers have been keen to tell us that 'the Ripper' preyed on prostitutes. Not only is this untrue, as historian Hallie Rubenhold has discovered, it has prevented the real stories of these fascinating women from being told. Now, in this devastating narrative of five lives, Rubenhold finally sets the record straight, revealing a world not just of Dickens and Queen Victoria, but of poverty, homelessness and rampant misogyny. They died because they were in the wrong place at the wrong time – but their greatest misfortune was to be born a woman.
My Thoughts
Jack the Ripper's victims are given the platform here. They are daughters, sisters, mothers and lovers whose lives were brutally taken yet they were just dismissed as fallen women, disposable and sinful. What emerges through the five biographies drawn carefully and with a lot of historical detail is a heart-wrenching tale showing that the women were the victims of poverty, misogyny, lack of rights and access to most basic support. They did the best they could despite all the odds stacked against them.
Rubenhold meticulously recreates the lives of the 'canonical five' who have never gotten any attention beyond being the means through which the serial killer gained fame and notoriety. Further, it has been implied that they'd been 'fallen women', so in effect, dispensable.
'Just as it did in the nineteenth century, the notion that the victims were 'only prostitutes' seeks to perpetuate the belief that there are good women and bad women; madonnas and whores. It suggests that there is an acceptable standard of female behaviour and those that deviate from it are fit to be punished. Equally, it assists in reasserting the double standard…'
It was fascinating to dive into the lives of five women of the lower working class in the Victorian era and learn more about how they lived. It reenforced the importance of compassion, and that then and now, caution is necessary before making any type of judgement regarding punishment and/or desert.
The author writes with great care, never leaving out what led to the women's poor decisions and the hardships that drove them to make them. It is not the murderer who is in the spotlight (he hardly gets a mention at all) but the intricate list of different socio-economical elements that contributed to the five women to end up living in extremely vulnerable circumstances and therefore exposed to dangerous threats.
Rubenhold has written a portrait of society that is eye-opening and very captivating to read. This is nonfiction at its very best, a must read for any crime and history enthusiast or feminist. Highly recommended.
The Book in three words: compelling, disturbing, and thought-provoking
About the author
Hallie Rubenhold is a social historian whose expertise lies in revealing stories of previously unknown women and episodes in history. By drawing upon a wealth of formerly unseen archival material and adding a full historical context to the victims' lives, The Five changes the narrative of these murders for ever.
Rubenhold's books include Lady Worsley's Whim, dramatized by the BBC as 'The Scandalous Lady W', and 'Covent Garden Ladies: The Extraordinary Story of Harris's List', which inspired the ITV series 'Harlots'. She lives in London with her husband.