Book quote
"What she was doing, what she had just done, was for her not about frivolity, it was about the essential, about being human, living as a human being, reminding oneself of what one was, and so it mattered, and if necessary was worth a fight."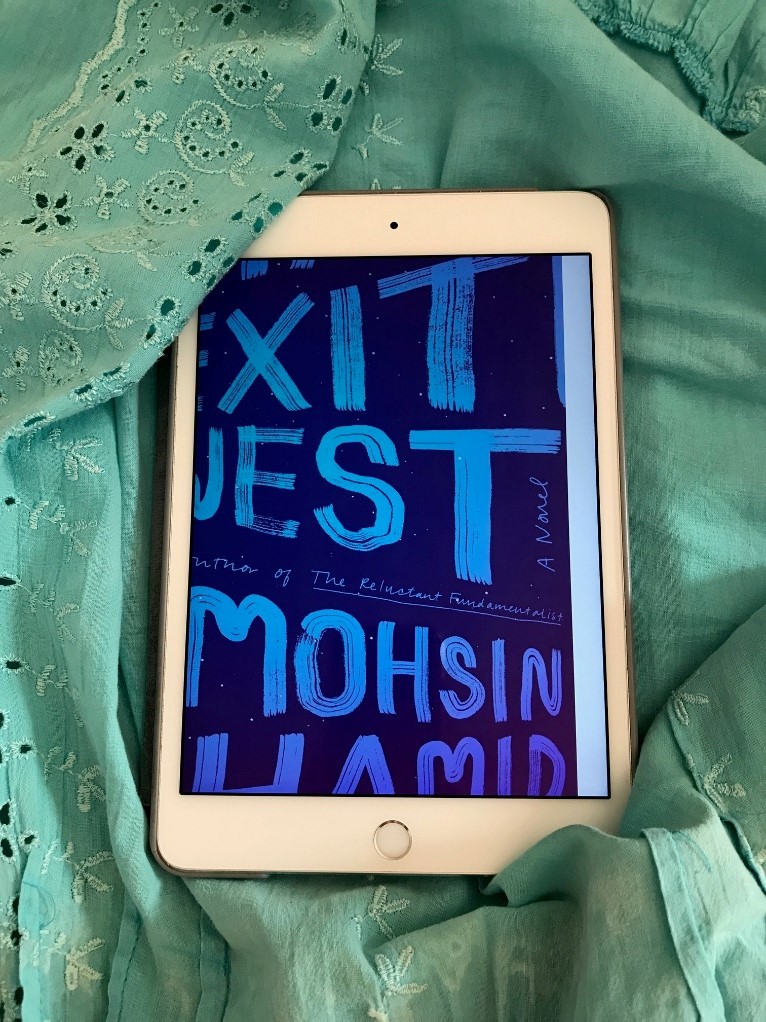 Blurb
In a country teetering on the brink of civil war, two young people meet—sensual, fiercely independent Nadia and gentle, restrained Saeed. They embark on a furtive love affair and are soon cloistered in a premature intimacy by the unrest roiling their city. When it explodes, turning familiar streets into a patchwork of checkpoints and bomb blasts, they begin to hear whispers about doors—doors that can whisk people far away, if perilously and for a price. As the violence escalates, Nadia and Saeed decide that they no longer have a choice. Leaving their homeland and their old lives behind, they find a door and step through.
Exit West follows these characters as they emerge into an alien and uncertain future, struggling to hold on to each other, to their past, to the very sense of who they are. Profoundly intimate and powerfully inventive, it tells an unforgettable story of love, loyalty, and courage that is both completely of our time and for all time.
My Thoughts
As I previously read The Reluctant Fundamentalist, I was looking forward to discovering more of his work again when our local book club chose to read his more recent novel Exit West. I vividly remember enjoying Hamid's compelling and elegant style in The Reluctant Fundamentalist andthat the story had struck me as original and engaging.
Exit West brought back that initial sense of being swept along another thought-provoking narrative, a fluid and compelling piece of writing.
What I enjoyed most about this book was seeing the change in the two main characters as they transition through life, travel from country to country and face hardship and, ultimately, also self-discovery. The idea that you will miss your country of birth, that you are inextricably attached to its people and culture as you emigrate and experience new ways of life isn't what every immigrant will go through. Both Nadia and Saeed respond to the changes they face in each different location in very different ways which eventually causes them to seek different lifestyles later in the story.
Nadia in my view feels this change most acutely. At the start of the book, we meet an independent lady who is bold and already has a mind of her own. She is less conservative than Saeed, uses the religious aspect of daily life to her advantage aiming to be left to her own devices. Meanwhile Saeed takes the societal rules more seriously and is the traditionalist between the two. However, both respect each other's differences in opinion and outlook and it initially gives them a strong connection as they migrate from one place to the next.
It is not surprising though that Nadia will feel a greater sense of liberation than Saeed the further and the longer they are away from their home country.
'… she saw all these people of all different colours in all these different attires and she was relieved, better here than there she thought, and it occurred to her that she had been stifled in the place of her birth for virtually her entire life, that its time for her had passed, and a new time was here, and, fraught or not, she relished this like the wind in her face and a hot day when she rode her motorcycle and lifted the visor of her helmet and embraced the dust and the pollution and the little bugs that sometimes went into your mouth and made you recoil and even spit, but after spitting grin, and grin with a wildness.
For others, too the doors came as a release…'
As Saeed and Nadia discover their own true selves, and come up external pressures that separate their attitudes to sex and worship, their bond also weakens. The author explores here the extent to which personal lives are secondary to cultural and political circumstances, that what people genuinely want runs deeper and stronger than what is initially forced onto them by society.
In The end, Saeed and Naida are faced with the difficult decision to either stay together or part ways before moving on because 'we are all migrants through time' who are changed by circumstance, experience and newfound understanding.
The Book in three words: compelling, original, andengaging
About the author
Mohsin Hamid is the author of four novels — Moth Smoke, The Reluctant Fundamentalist, How to Get Filthy Rich in Rising Asia, and Exit West — and a book of essays, Discontent and Its Civilizations.
His writing has been translated into forty languages, featured on bestseller lists, and adapted for the cinema.
Born in Lahore, he has spent about half his life there and much of the rest in London, New York, and California.