Book quote
" …and then I saw that, in a country, the government's one thing and the people are another."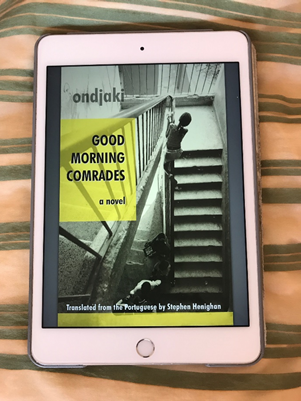 Blurb
Luanda, Angola, 1990. Ndalu is a normal twelve-year old boy in an extraordinary time and place. Like his friends, he enjoys laughing at his teachers, avoiding homework and telling tall tales. But Ndalu's teachers are Cuban, his homework assignments include writing essays on the role of the workers and peasants, and the tall tales he and his friends tell are about a criminal gang called Empty Crate which specializes in attacking schools. Ndalu is mystified by the family servant, Comrade Antonio, who thinks that Angola worked better when it was a colony of Portugal, and by his Aunt Dada, who lives in Portugal and doesn't know what a ration card is. In a charming voice that is completely original, Good Morning Comrades tells the story of a group of friends who create a perfect childhood in a revolutionary socialist country fighting a bitter war. But the world is changing around these children, and like all childhood's Ndalu's cannot last. An internationally acclaimed novel, already published in half a dozen countries, Good Morning Comrades is an unforgettable work of fiction by one of Africa's most exciting young writers.
My Thoughts
This was a wonderful first read for me by this author, a charming child's-eye-view of life in Angola during the 1990s.
The reader sees the country's revolutionary changes and civil war through the eyes of Ndalu, a twelve-year-old boy preoccupied with friends, school and daily life whose innocence cannot yet comprehend nor question the reasons for his family's privileged circumstances in Luanda as opposed to the misery of others. He is an endearing protagonist who is curious and optimistic, yet also sensitive to his less fortunate classmates and relates the political parades and news about the political powers struggles between the establishment and their opponents without understanding the broader implications they could have on his future.
However, when his aunt visits from Portugal, he is perplexed to hear that she knows nothing about ration cards and is able to bring presents she has bought back home without any restrictions. There is a clear awareness that Portugal and Angola are two very distinct countries.
As the narrative progresses, the story provides further hints about the end of the Cold War and Angola's Civil War. It's a vividly told story that I found easy to connect with because I saw Ndalu as a normal boy who wants to lead a normal life, yet finds himself growing up in the middle of a country in deep turmoil.
In the afterword the reader is also given a valuable historical overview about Angola and the semi-autobiographical aspect of the book which has drawn from Ondjaki's childhood in the capital during the 1990s.
The Book in three words: Endearing, noteworthy and educational
About the author
Ndalu de Almeida (born 1977) is a writer from Angola, writing under the pen name Ondjaki. He lives in Luanda, the capital of the country, and has written poetry, children's books, short stories, novels, drama and film scripts.
Ondjaki studied sociology at the University of Lisbon, and wrote his graduation paper about Angolan writer Luandino Vieira. His literary debut came in 2002 with the novella O Assobiador (The Whistler), which was followed up with the childhood memoir Bom dia camaradas (Good Morning, Comrades) in 2003. To date (2010) he has published four novels, three collections of short stories, two collections of poetry and three children's books. His books have been translated to French, Spanish, Italian, German, English, Chinese and Swedish