Book quote
"I desire the things which will destroy me in the end,"
Sylvia Plath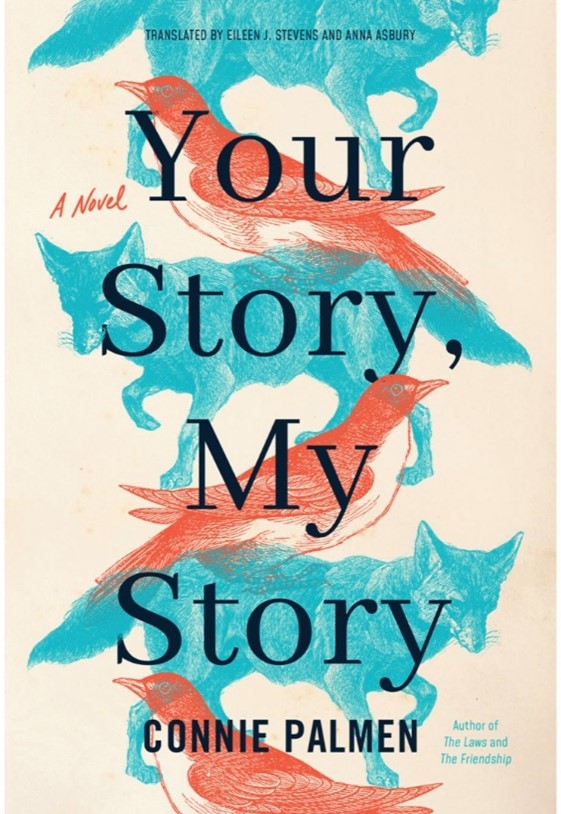 Blurb
From the award-winning author of The Friendship comes a shattering, brilliantly inventive novel based on the volatile true love story of literary icons Sylvia Plath and Ted Hughes.
In 1963 Sylvia Plath took her own life in her London flat. Her death was the culmination of a brief, brilliant life lived in the shadow of clinical depression—a condition exacerbated by her tempestuous relationship with mercurial poet Ted Hughes. The ensuing years saw Plath rise to martyr status while Hughes was cast as the cause of her suicide, his infidelity at the heart of her demise.
For decades, Hughes never bore witness to the truth of their marriage—one buried beneath a mudslide of apocryphal stories, gossip, sensationalism, and myth. Until now.
In this mesmerizing fictional work, Connie Palmen tells his side of the story, previously untold, delivered in Ted Hughes's own uncompromising voice. A brutal and lyrical confessional, Your Story, My Story paints an indelible picture of their seven-year relationship—the soaring highs and profound lows of star-crossed soul mates bedeviled by their personal demons. It will forever change the way we think about these two literary icons.
My Thoughts
This is a book about the complex relationship between the two poets Sylvia Plath and Ted Hughes. It is written in beautiful prose infused with the rawness, passion and pain that runs through the writers' seven-year long relationship and artistic creation.
Told from the viewpoint of Ted Hughes, Palmen gives him a voice based on her close reading of the poet's 'Birthday Letters' which he wrote over the span of twenty-five years after the death of his young wife by suicide. It isn't an apology for his actions nor is it a condemnation of Sylvia Plath who suffered from severe depression. I was often deeply moved by the way the author portrayed Plath's illness with sensitivity and honesty while showing the depth of helplessness her husband must have felt watching her despair. I come away feeling that despite Hughes' betrayal and subsequent abandonment of his wife, this book manages to balance the scales, seeing both sides of the story. It has also made me reach for Hughes' poetry collection again as well as Plath's 'Ariel'. I'm sure after this haunting novel I'll read their words with a fresh set of eyes.
A lot has been written about the couple, and what I appreciate about this new addition to the list of books to read about and written by the two writers is that depression is a monster that no outsider can defeat for another person and, that it would be unfair to put the blame entirely on a spouse alone. As far as perceptions go, this book offers a fresh view on the iconic novelist and poet Sylvia Plath's struggles and inner demons. The language is exquisite and a delight in its own right as well. The author's pen conveys emotions of pain and desperation with depth and sensitivity, emotions that are rollercoasting and palpable on each page.
After reading this novel, I reached out to Plath's Ariel and soon plan to re-read The Bell Jar with a fresh set of eyes. More than ever before do I feel that it is risky to imagine that you can judge a person's mental health without experiencing it first-hand. It's a complex problem that afflicts so many people in different ways, often leaving loved ones helpless and feeling guilty. Palmen offers a moving example of it in this book.
The Book in three words: emotional, mesmerizing and thought-provoking
About the author
Connie Palmen (Aldegonda Petronella Huberta Maria Palmen) is a Dutch author. She was born on November 25, 1955 in Sint Odiliënberg.
Palmen debuted with the novel De wetten (1990), published in the USA as The Laws (1993), translated by Richard Huijing. The Laws was shortlisted for the 1996 International IMPAC Dublin Literary Award.
Her second novel was De vriendschap (1995), published in the USA as The Friendship (2000), translated by Ina Rilke.
Palmen had a relationship with Ischa Meijer in the years preceding his death in 1995. From 1999 on she lived with D66 politician Hans van Mierlo, and the couple married on 11 November 2009 until his death on 11 March 2010.