Book quote
"Reading has saved my life, again and again, and has held my hand through
every difficult time."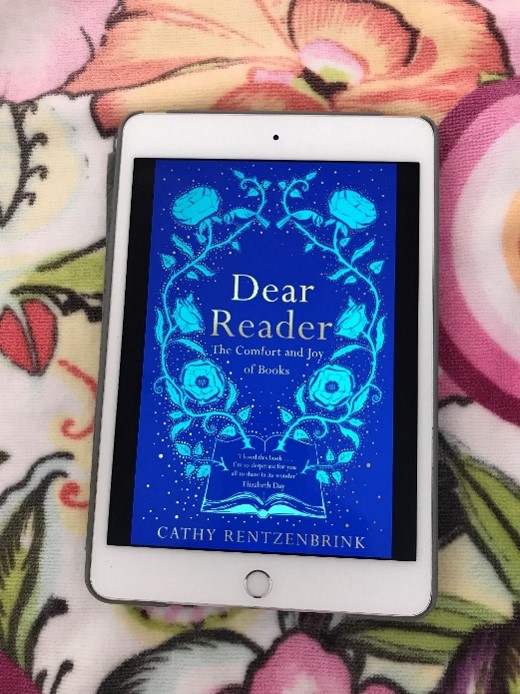 Blurb
From the Sunday Times bestselling author of The Last Act of Love.

'Reading has saved my life, again and again, and has held my hand through every difficult time'

For as long as she can remember, Cathy Rentzenbrink has lost and found herself in stories. Growing up she was rarely seen without her nose in a book and read in secret long after lights out. When tragedy struck, books kept her afloat. Eventually they lit the way to a new path, first as a bookseller and then as a writer. No matter what the future holds, reading will always help.

Dear Reader is a moving, funny and joyous exploration of how books can change the course of your life, packed with recommendations from one reader to another.
My Thoughts
This book is an absolute delight. As a bookworm and big reader since childhood myself, I was enthralled to read about Rentzenbrink's passion for reading and all things related to the world of books. Not only was it fun to read, and had me nodding at so many of her descriptions and observations, the book also gave me a sense of being understood. The author shares an enthusiasm for reading that could be said to verge on the obsessive, even addictive, but she shows to what extent reading actually offers solace, pleasure, and education which nourish the mind and soul is so many positive ways.
"It is the most central aspect of my identity; the truest thing I could say about myself is, 'I am a reader."


There is so much to love about 'Dear Reader', a book that reads like a love letter to books, reading, bookselling, and also the writing process itself. The author's journey through her grief at losing her brother, the crucial part books have played in helping her grieve, her subsequent career working in bookshops and the description of her difficulties and triumphs in becoming an author are all told in a warm and compassionate voice. Along the way she shares her favourite reads, gives numerous recommendations that I have already added to my own TBR pile and lays bare her craving to read wherever and whenever possible.
"Don't allow anything to dent your reading pleasure. Don't let anyone tell you that what you like isn't proper, that what brings comfort and ease to your soul isn't good enough."
I loved every single page of this book. I loved re-discovering some old calssics and enjoyed her inclusion of a list of French titles that she enjoyed when studying the language and subsequently living in France. In short, the book is a gift for bibliophiles, especially the most voracious ones. Further, it is refreshing to note that she mentions authors who would probably not feature in the more traditional books about books listings. She's not a book snob, but down to earth and an allrounder when it comes to topics and titles mentioned.

The message I take away from this book is that books can keep you sane, they can entertain you, educate you, take you on a journey and they can save you from despair.
"A friend asks me how I have time for all this rereading and I boggle at the question. It is the thing that keeps me sane. A book a day will keep the doctor away, I hope."
The book in three words: passionate, engrossing and fun
About the author
Cathy Rentzenbrink grew up in Yorkshire and now lives in London. A former Waterstones bookseller, she is now Project Director of the charity Quick Reads and Associate Editor of The Bookseller magazine.