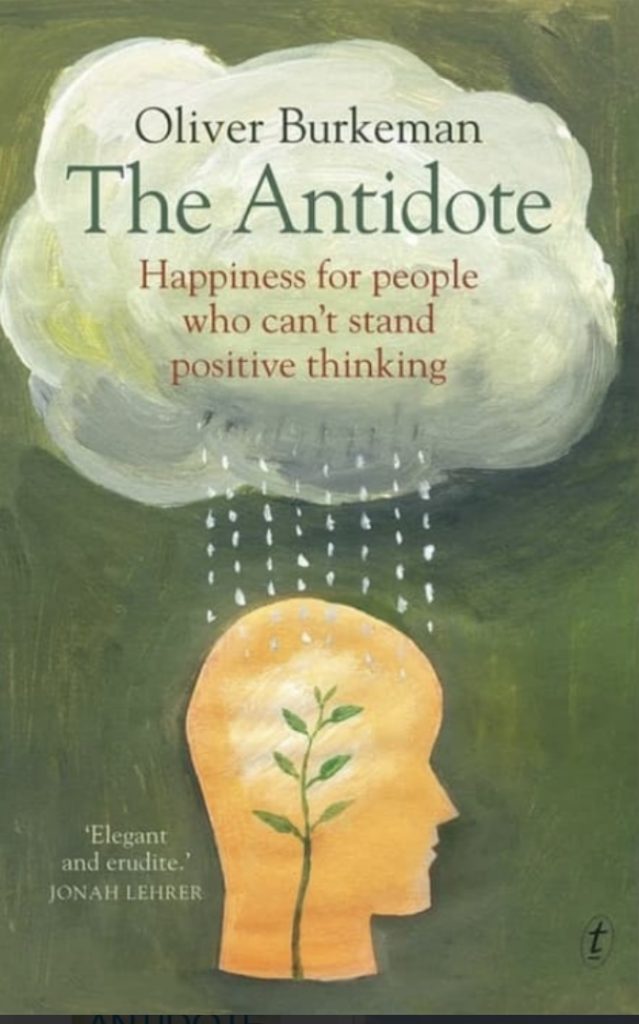 BLURB
From the author of the New York Times-bestselling Four Thousand Weeks, a totally original approach to self-help: success through failure, calm through embracing anxiety


Self-help books don't seem to work. Few of the many advantages of modern life seem capable of lifting our collective mood. Wealth―even if you can get it―doesn't necessarily lead to happiness. Romance, family life, and work often bring as much stress as joy. We can't even agree on what "happiness" means. So are we engaged in a futile pursuit? Or are we just going about it the wrong way?
Looking both east and west, in bulletins from the past and from far afield, Oliver Burkeman introduces us to an unusual group of people who share a single, surprising way of thinking about life. Whether experimental psychologists, terrorism experts, Buddhists, hard-headed business consultants, Greek philosophers, or modern-day gurus, they argue that in our personal lives, and in society at large, it's our constant effort to be happy that is making us miserable. And that there is an alternative path to happiness and success that involves embracing failure, pessimism, insecurity, and uncertainty―the very things we spend our lives trying to avoid. Thought-provoking, counterintuitive, and ultimately uplifting, The Antidote is the intelligent person's guide to understanding the much-misunderstood idea of happiness.
MY THOUGHTS
This is a fabulous example for an engaging, inspirational, and very well researched non-fiction read. Actually, it's one of the very best I've read in a long time!
I've mulled over this post for a few days after finishing the book first before starting to write down my thoughts to prepare this review. There is so much to take away from it so I decided that I'd mention four themes from the overall list of fascinating chapters that particularly stood out to me. This doesn't mean the other content isn't worthy of focused attention, it is, of course and I urge you to read it and find out for yourself.
Firstly, I'll elaborate a little on the chapter about happiness, this elusive and highly sought after feeling. Burkeman suggests that when we focus exclusively on happiness and chase it directly through a constant effort to eliminate negative thoughts, we end up even more frustrated and miserable than at the start. He mentions an experiment that is very simple and easy to try out. Tell yourself to NOT think of a pink elephant and sure enough your mind will instantly conjure up the image of … yes, a pink elephant. This is the same as telling yourself to avoid certain negative thoughts or only think positive ones and you'll most definitely feel anxious or unhappy about the fact that it's impossible to keep up without your mind wandering in the opposite direction. It is better to let feelings arise and observe them or if you are overwhelmed by intrusive thoughts allow yourself to consciously imagine worst-case scenarios and discover that it actually helps you to re-frame them and through that exercise become tougher and more resilient against feelings of uncertainty. Calm contentment and accepting that inner thoughts are like the weather – uncontrollable – will lead to a more durable kind of happiness and acceptance because 'change defines life.' It's better to embrace it than to make yourself believe that you should fight it.
Secondly, the chapter about being 'goal crazy' and its underlining attempt to control the future is a fascinating discussion about our obsession with goals. Instead of focusing on a list of targets, the author suggests that research points to the more efficacious skill of 'improvisational flexibility'. Rather than stick to a goal at all costs, introduce 'openture' which is a Stoic and Buddhist practice that 'develops a kind of muscular calm in the face of trying circumstances' is not only more productive but can also lead to new ideas. The fact that controlling the future is extremely limited and that trying to counteract this reality with a focus on goals leads to frustration and tension because it's motivated by desperate determination. It is better to explore more freely, discover what works or doesn't work, one step at a time, without … you probably guessed it… yes, without setting clear goals. This doesn't mean having goals is always bad or that they necessarily make us unhappy, but rather that they should come with a healthy dose of openness and spontaneity.
Thirdly, in the chapter about failure Burkeman tells us more specifically to embrace insecurity and disappointment rather than mentally suppress any negative thoughts about what failure would mean. 'Dare to inspect your failures' directly so that you learn to strip away the inessential, and that you see for yourself that what you feared most isn't actually as bad as you thought. Behind every fear of failure (losing your job, not winning a medal, etc) there is an opportunity to reformulate your belief or judgement of its true importance. Accepting the fear of vulnerability that can come with failure tells yourself that 'if your greatest fear comes to pass, remember that you're still alive.'
Fourthly, the chapter about death, where the author suggest that 'The first step in trying to become more comfortable with your mortality involves attempting to reduce the terror induced by the mere thought of death.' This chapter is all about the fear of thinking about our mortality and that the sooner we embrace the fact that uncertainty is the only certainty in life, that reminding yourself that we do not know when and how we'll die but by facing its inevitability directly we can find a source of comfort and relief in this exercise. The threat of negative things happening to us is part of life and if you can be persuaded that the fear of death is illogical, you're more likely to be able to let go of it.'
Therefore, aim to achieve calm rationality à la Epicurus, embrace imperfection, confront unpleasant thoughts, emotions and situations and 'ease up on the search for neat solutions. One life is what we got, for better or worse. Memento Mori – Remember you are mortal!
ABOUT THE AUTHOR
Oliver Burkeman (born 1975) is a British journalist and writer. Between 2006 and 2020 Burkeman wrote a popular weekly column on psychology, This Column Will Change Your Life,[2] and has reported from London, Washington and New York. He has his own blog at www.oliverburkeman.com