Book quote
 'Less empathy, more kindness.'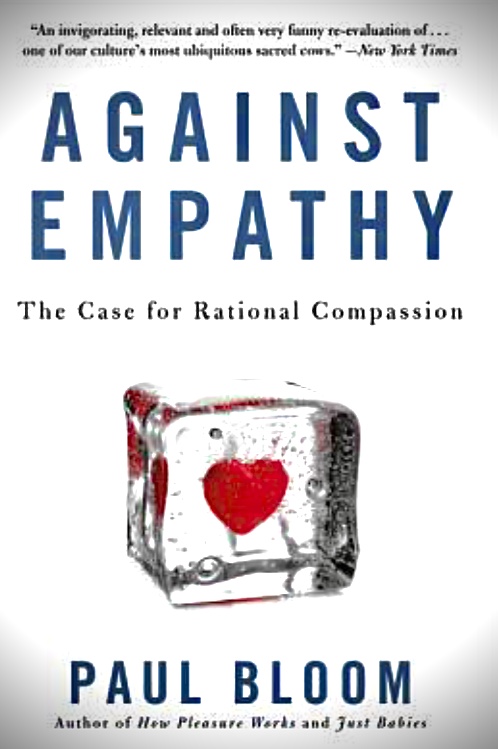 My Thoughts
This is a fascinating read that offers an intelligent and stimulating discussion about why empathy is not only overrated but when looked at more closely can lead to bad decisions, prejudice and myopic and counterproductive behaviour.
Take a simple thought experiment: you are telling your GP about the pain that you are currently experiencing and as you describe the symptoms, his facial expression starts to take on a pained look, he gets more and more distressed as you describe what the pain is like, where it's located and you watch your doctor looking physically affected, scrunching his shoulders and rubbing the areas where you are describing the location of your pain. The doctor's behaviour is likely to increase the patient's worry and shows that empathy – the feeling with someone – is not reassuring, will influence the professional's state of mind and capacity for an objective examination and suggestion for treatment.
I offered an extreme example and I'd argue that imagining the opposite of empathy which would be a doctor distracted, cold and lacking any sympathy is equally distressing and counterproductive for a patient in need of help.
What Bloom is aiming to show though is that empathy can be more problematic than we are led to believe and that rational empathy or compassion and care is a better approach to assist someone in distress.
He examines the negative effects via a series of evidence-based arguments that give the following result:
1, You can only identify with one person when you empathise which restricts your view on the overall situation. This fact can mean that many others deserving of sympathy will not be considered.
2, Empathy can make you blind or myopic to the concerns for future generations because you focus on only one aspect of a situation.
3, Empathy is often prejudiced because it is easy to identify with family, friends, people similar to us in culture and outlook but more difficult to apply towards strangers who we struggle to identify with.
4, Empathy leads to an emotional rather than a rational response.
5, The selfish aspect of empathic care leads to ineffective responses – i.e. we take care of someone's frustration not because we care but because we wish to reduce the impact their emotion is having on us, the frustration (felt vicariously) it creates in us.
As my previous example of the doctor patient situation shows, too much empathy means that the doctor not only recognises the pain but is himself in pain due to emphatic distress. This stops him to do a good job, or worse, do his job at all because his pain is increasingly more painful until he has to tend to his own before he can consider a solution for his patient.
What the patient needs is a doctor who is fully present, listens carefully and calmly collects the information he needs to assess the reason for the medical complaint. This can be done without feeling with the person in need of care because a doctor has learned to associate symptoms with pathologies and his genuine attention to detail without emotional distraction is paramount to the ability in facing many patients in a day. Compassion and focused care are therefore distinguished from emotional empathy because it creates the opportunity for the patient to talk about all their problems without fear of shocking the doctor who in turn is able o make the correct diagnosis and treatment so both of them can move on to their next task.
'In contrast to empathy, compassion does not mean sharing the suffering of the other: rather, it is characterized by feelings of warmth, concern and care for the other, as well as a strong motivation to improve the others well-being. Compassion is feeling for not feeling with the other.'
Therefore, empathy impacts on our rationality and good moral decision making. In one sense it is a useful tool to understand that pain can be shared, such as grief for a loved one, the severity of an injury or show how much we do care for our friends and family. In another sense, it reduces our vision to a small group of people, at the expense of others equally worthy of concern and consideration.
Hence, rational compassion is to be favoured – objective, logical analysis of costs and benefits, with a sympathetic approach that allows for a detached but beneficial concern for the wellbeing of others. Bloom argues this with fascinating evidence, well-presented logic and – pardon the pun – empathetic conviction. We could learn a lot from that outlook to become better parents, friends and citizens of the world. Once we are aware of the difference between sympathy – the feeling for (I notice that you're in pain) and empathy – the feeling with (I feel your pain) we can assist others better.
'Not only can compassion and kindness exist independently of empathy, they are some times opposed. Sometimes we are better people if we suppress our empathic feelings.'
The Book in three words: engaging, intelligent and thoughtful
I'd love to know your thoughts on the book if you've read it!
Blurb
We often think of our capacity to experience the suffering of others as the ultimate source of goodness. Many of our wisest policy-makers, activists, scientists, and philosophers agree that the only problem with empathy is that we don't have enough of it.

Nothing could be farther from the truth, argues Yale researcher Paul Bloom. In AGAINST EMPATHY, Bloom reveals empathy to be one of the leading motivators of inequality and immorality in society. Far from helping us to improve the lives of others, empathy is a capricious and irrational emotion that appeals to our narrow prejudices. It muddles our judgment and, ironically, often leads to cruelty. We are at our best when we are smart enough not to rely on it, but to draw instead upon a more distanced compassion.

Basing his argument on ground-breaking scientific findings, Bloom makes the case that some of the worst decisions made by individuals and nations—who to give money to, when to go to war, how to respond to climate change, and who to imprison—are too often motivated by honest, yet misplaced, emotions. With precision and wit, he demonstrates how empathy distorts our judgment in every aspect of our lives, from philanthropy and charity to the justice system; from medical care and education to parenting and marriage. Without empathy, Bloom insists, our decisions would be clearer, fairer, and—yes—ultimately more moral.

Brilliantly argued, urgent and humane, AGAINST EMPATHY shows us that, when it comes to both major policy decisions and the choices we make in our everyday lives, limiting our impulse toward empathy is often the most compassionate choice we can make.
About the author
Paul Bloom is the Brooks and Suzanne Ragen Professor of Psychology and Cognitive Science at Yale University. His research explores how children and adults understand the physical and social world, with special focus on morality, religion, fiction, and art. He has published more than a hundred scientific articles in journals such as Science and Nature, and his popular writing has appeared in the New York Times, the New Yorker, the Atlantic Monthly, Slate, Natural History, and many other publications. He has won numerous awards for his research and teaching. His newest book–Just Babies: The Origins of Good and Evil–is coming out in November. Paul Bloom lives in New Haven with his wife and two sons.