Book quote
"Nothing is what you imagine. Her mind hovered above this simple and alarming thought. The variables were too great, the particularities too distinct, life a flood of translations from the shadow-edged yearnings of the heart to the immutable aspects of the physical world."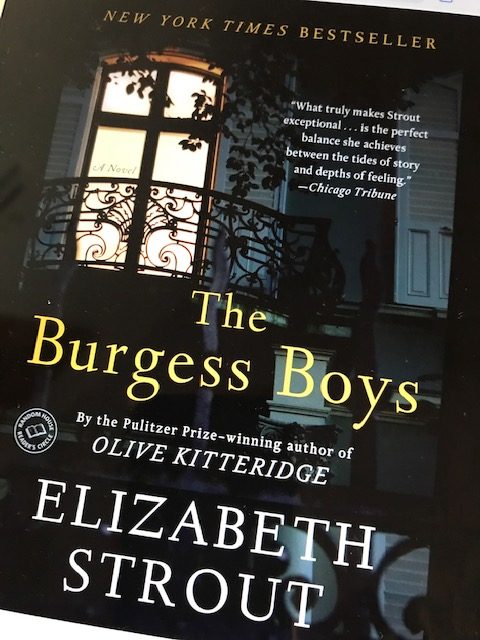 My Thoughts
The Burgess Boys is the last of all the author's novels that I still had on my bookshelf to read and I finished it… just in time for the publication of her new book Oh William.
I very much enjoyed reading Strout's books and admire her sensitive technique of writing when it comes to the gradual and non-judgmental reveals of her flawed yet human characters and their actions, their sorrow and personal struggles that in keeping and finding connections that last.
Her words are careful, offering small bites of information, describing the weather, the surroundings the characters move in, the clothes they wear, what they eat and where they shop and work. There is always a fluidity, some unknown detail or fact hidden behind a dialogue, a backstory that shaped the people's lives as well as their behaviour to one another. Written from different POVs, there is a sense that what holds the main characters together is their childhood memories – good and bad – and especially the incident of their father's tragic death that traumatised them all.
The plot is set in NY and Shirley Falls, a fictional town in Maine where the siblings Bob, Jim and Susan grew up and the setting of their early childhood trauma.
When the story opens, the three adults are pulled back together because of a legal drama set in motion by Susan's teenage son Zachary. Bob and Jim are NY lawyers and well versed and connected to help their sister while Susan has never left their hometown.
The person with the most confidence, success and stable family situation appears to be Jim. He's the one all the family is looking for salvation when his nephew gets arrested after throwing a half-frozen pig's head into a mosque during Ramadan, while Bob is divorced as well and childless. The person most troubled and unhappy is Susan. She feels it's her fault that her son has committed this act and is lonely and depressed.
Susan calls her brothers for help, and Bob and Jim return to Shirley Falls to offer legal advice while the incident quickly gains nation-wide indignation. The book is both a political and family examination of relationships, of the long-term effect of guilt and lies, of people's motives and failures and muddled intentions.
"For most of the nineteen years of Zachary's life, Susan had done what parents do when their child turns out to be so different from what they'd imagined—which is to pretend, and pretend, with the wretchedness of hope, that he would be all right. Zach would grow into himself. He'd make friends and take part in life. Grow into it, grow out of it … Variations had played in Susan's mind on sleepless nights. But her mind had also held the dark relentless beat of doubt: He was friendless, he was quiet, he was hesitant in all his actions, his schoolwork barely adequate. Tests showed an IQ above average, no discernible learning disorders—yet the package of Zachness added up to not quite right. And sometimes Susan's melody of failure crescendoed with the unbearable knowledge: It was her fault.
Strout writes about our human imperfections with compassion, saying it without flourish or unnecessary gloom. It is difficult to live and love and there are things we lie about and when we do admit to it, it can crumble everything we hold dear. Every book by this author has been a delight and The Burgess Boys is no different. A riveting and compassionate story!
I will definitely make time to read the author's new book soon and already look forward to revisiting her unique style of writing.
"I wrote the story, but you will bring to it your own experience of life, and some other reader will do the same, and it will become a different story with each reader. I believe that even the time in your life when you read the book will determine how you receive it. Our lives are changing constantly, and therefore not even our own story is always what we think it is."
The Book in three words: sensitive, moving and thoughtful
I'd love to know your thoughts on the book if you've read it!
Blurb
Haunted by the freak accident that killed their father when they were children, Jim and Bob Burgess escaped from their Maine hometown of Shirley Falls for New York City as soon as they possibly could. Jim, a sleek, successful corporate lawyer, has belittled his bighearted brother their whole lives, and Bob, a Legal Aid attorney who idolizes Jim, has always taken it in stride. But their long-standing dynamic is upended when their sister, Susan—the Burgess sibling who stayed behind—urgently calls them home. Her lonely teenage son, Zach, has gotten himself into a world of trouble, and Susan desperately needs their help. And so the Burgess brothers return to the landscape of their childhood, where the long-buried tensions that have shaped and shadowed their relationship begin to surface in unexpected ways that will change them forever.

With a rare combination of brilliant storytelling, exquisite prose, and remarkable insight into character, Elizabeth Strout has brought to life two deeply human protagonists whose struggles and triumphs will resonate with readers long after they turn the final page. Tender, tough-minded, loving, and deeply illuminating about the ties that bind us to family and home, The Burgess Boys is Elizabeth Strout's newest and perhaps most astonishing work of literary art.
About the author
Elizabeth Strout is the author of several novels, including: Abide with Me, a national bestseller and BookSense pick, and Amy and Isabelle, which won the Los Angeles Times Art Seidenbaum Award for First Fiction and the Chicago Tribune Heartland Prize, and was a finalist for the PEN/Faulkner Award and the Orange Prize in England. In 2009 she was awarded the Pulitzer Prize for her book Olive Kitteridge. Her short stories have been published in a number of magazines, including The New Yorker. She teaches at the Master of Fine Arts program at Queens University of Charlotte.