Book quote
'A person's life isn't orderly… it runs about all over the place, in and out through time. The present's hardly there; the future doesn't exist. Only love matters in the bits and pieces of a person's life.'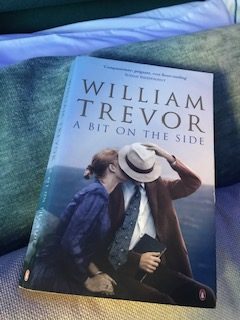 My Thoughts
How to review a collection of short stories when most readers will inevitably prefer one over another because the idea of an anthology generally implies diversity of topics and characters, and therefore some narratives will appeal more than others? Generally, that it the case for me and even in A Bit On The Side, there are some stories that linger more than others. However, overall, this is a fabulous collection of stories, perfect for compelling and satisfying reads and has made me want to reach out for many of the author's other short story collections and novels.
The majority of these twelve stories drew me in because firstly the character's situation, background or moral conundrum was realistically and sensitively portrayed and secondly because Trevor made me care what happens to the main protagonist. In each story he built a picture that was like a window looking into a specific scene of Irish life.
The one theme that stood out in most of these stories was the effects of loneliness and loss on a person: a widow confides in two Christian women about her disappointing marriage; a girl misses her sister, left behind to live with her bitter aunt; a middle-aged priest is dismayed by the slow death of his parish and the man and woman meeting through a dating agency with very different intentions find themselves in an awkward situation are just a few examples for the vast landscape of loneliness and misunderstandings that can occur in people's lives and that Trevor brings to life effectively in this anthology.
The author's precise and beautifully layered style is captivating and I often found myself eagerly turning the pages to find out what would happen next. The reader is a quiet bystander, looking in on rural Irish life, the many remnants of the Catholic Church's influence and lingering effects passed on through previous generations and also the perseverance of its inhabitants to find hope and a new connection to other people or find a new way to determine their future. It is by no means a sad read though because every one of the well-drawn characters do their best to move on from grief, loss or regrets and how they do that is worth the read.
"I can't go on, I'll go on." Samuel Beckett

The Book in three words: intimate, poignant and compelling
I'd love to know your thoughts on the book if you've read it!
Blurb
In these twelve stories, a waiter divulges a shocking life of crime to his ex-wife; a woman repeats the story of her parents' unstable marriage after a horrible tragedy; a schoolgirl regrets gossiping about the cuckolded man who tutors her; and, in the volume's title story, a middle-aged accountant offers his reasons for ending a love affair. At the heart of this … collection is Trevor's characteristic tenderness and unflinching eye for both the humanizing and dehumanizing aspects of modern urban and rural life.
About the author
William Trevor was born in Mitchelstown, County Cork. He has written many novels, and has won many prizes including the Hawthornden Prize, the Yorkshire Post Book of the Year Award, and the Whitbread Book of the Year Award. His most recent novel Love and Summer was longlisted for the Booker Prize. He is also a renowned short-story writer, and his two-volume Collected Stories was published by Viking Penguin in 2009. In 1999 William Trevor received the prestigious David Cohen Literature Prize in recognition of a lifetime's literary achievement, and in 2002 he was knighted for his services to literature. He now lives in Devon.