Book quote
"To free yourself, to be more authentic, to be less addicted, to be less manipulated, to be less paranoid … for all these marvellous reasons, delete your accounts."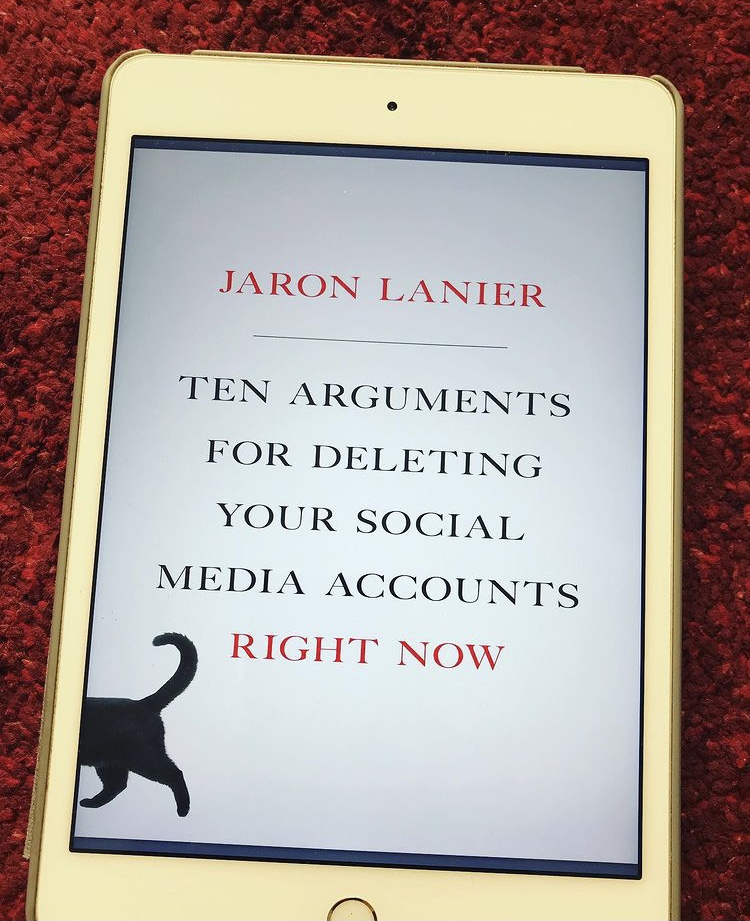 My Thoughts
The irony is not lost on me that this book makes a very good case about deleting the social media apps that I am regularly posting on. Has it made me consider deleting them all? Yes, it has and I'll try to convey the thought process that led me to answer in the affirmative.
´We're being hypnotized little by little by technicians we can't see, for purposes we don't know. We are all lab animals now.' Lanier backs up this premise and his subsequent views eloquently throughout this book and I have no doubt that when I browse the internet, clever algorithms follow my path and afterwards cause a display of items that are meant to entice me to purchase them. Social media platforms exploit this further by recognizing a person's interests and pushing content during their next visit.
Social media can therefore quickly turn toxic, addictive and trigger negative emotions when seeing what others have. It limits users' ability to decide what they want or don't want to see, their creativity and hence experiences of truly authentic nature.
'The opacity of our times is even worse than it might be because the degree of opacity is itself opaque… I remember when the internet was supposed to bring about a transparent society. The reverse has happened.' It has become a big shop rather than a place to meet, exchange diverse views and ideas and a place to learn from each other.
Looking at the current state of affairs regarding a culture of censorship and silencing of critical voices, Lanier's book is a refreshing reminder that you can chose to step away from the noise and decide to experiment with a new path, one that does not need your interaction on social media.
To describe the toxicity of social media outlets, he came up with an acronym for it. He calls it BUMMER, which means 'Behaviours of Users Modified and Made into Empires for Rent'. The idea is that social media sites change our behaviours in a way that is of interest to them, and that their interest is straight financial gain.
"BUMMER is a machine with six moving parts. Here's a mnemonic for the six components of the BUMMER machine, in case you ever have to remember them for a test: A is for Attention Acquisition leading to Asshole supremacy B is for Butting into everyone's lives C is for Cramming content down people's throats D is for Directing people's behaviours in the sneakiest way possible E is for Earning money from letting the worst assholes secretly screw with everyone else F is for Fake mobs and Faker society"
With these aspects in mind, it is easy to grasp why the author cautions us to consider that 'the most important thing about a technology is how it changes people' and that it is worth examining our reasons for using it. We are led to believe that the amount of likes, followers or shares reflect directly on the importance of not only the post we share but on us as a person as well.
"Here's a non-geeky framing of the same idea: What if listening to an inner voice or heeding a passion for ethics or beauty were to lead to more important work in the long term, even if it measured as less successful in the moment? What if deeply reaching a small number of people matters more than reaching everybody with nothing?"
This idea rings particularly true to me. It should matter more that as individuals we explore our unique creativity, that stepping away from the addictive perception of stats on social media is crucial for innovation, independence, and freedom. Completely stepping away from social media by deleting the accounts is what Lanier suggests is necessary to come back to the basics available to everyone : experimentation with ideas without constant judgment which in turn will lead to the authenticity that makes a person more creative, rounded and grounded in reality. It's refreshing and only spending one day at a time leaving the accounts untouched has taught me that deciding what I read and see is empowering.
I urge you to read this book! Even if you don't want to delete your social media accounts this book will make you so much more mindful about what is happening to your brain, and hence to your mental health, to the way you communicate when you use social media and your free will or lack of.
The author isn't anti-tech, but believes that social media platforms are a bad example of tech and that as long as it is, we should avoid it at all cost. He writes in a funny, and well measured tone and there's much to think about after I turned the last page. Most of all it made me realise that I cannot escape the sad fact that I have spent too much time and energy on social media platforms to date, that I spent too much precious time and energy being pulled into things I did not need to see, read and most of all share. If I continue to do so I will only have myself to blame for it.

The Book in three words: Thought provoking, engaging and honest
I'd love to know your thoughts on the book if you've read it!
Blurb
Social media is supposed to bring us together – but it is tearing us apart.

'A blisteringly good, urgent, essential read' Zadie Smith

The evidence suggests that social media is making us sadder, angrier, less empathetic, more fearful, more isolated and more tribal.

Jaron Lanier is the world-famous Silicon Valley scientist-pioneer who first alerted us to the dangers of social media. In this witty and urgent manifesto he explains why its toxic effects are at the heart of its design, and, in ten simple arguments, why liberating yourself from its hold will transform your life and the world for the better.

About the author
Jaron Zepel Lanier (born May 3, 1960) is an American computer scientist, visual artist, computer philosophy writer, technologist, futurist, and composer of contemporary classical music. Considered a founder of the field of virtual reality, Lanier and Thomas G. Zimmerman left Atari in 1985 to found VPL Research, Inc., the first company to sell VR goggles and wired gloves. In the late 1990s, Lanier worked on applications for Internet2, and in the 2000s, he was a visiting scholar at Silicon Graphics and various universities. In 2006 he began to work at Microsoft, and from 2009 has worked at Microsoft Research as an Interdisciplinary Scientist.